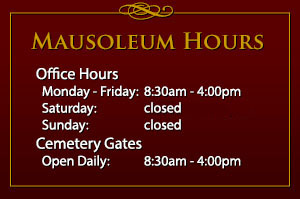 Old Settlers Monument:
In the late 1880's the remains of early settlers of the City of Newark were removed from the Old Burying Ground located on Broad Street and placed in a tomb at Fairmount Cemetery. The City of Newark erected a "Monument to the First Settlers of Newark", which has become commonly known as the Old Settlers Monument. This monument was first dedicated December 19, 1889 and, under the care of the Newark Preservation & Landmark Committee along with the City of Newark, was rededicated in 2004. The monument stands today as a tribute to the early settlers of the City of Newark.
Notable Burials:
Writers
Harriet Stratemeyer Adams, author, the Hardy Boys, Nancy Drew and Bobbsey Twins books.
Medical Pioneers
Clara Louise Maass, medical pioneer, who sacrificed her life in search of the cause and effective immunization against yellow fever.
Congressional Medal of Honor Recipients of the Civil War
Augustus Frederick Bronner
Joseph H. DeCastro.
Fairmount Cemetery has over 1400 Civil War burials. Click here to see a list of individuals.
Beer Barons
Gottfried Krueger, founder of Krueger Beer
Christian Feigenspan, son of the founder of Feigenspan Beer.
U.S. Congressmen
Peter Angelo Caviccia
Thomas Dunn English
William Henry Fiedler
Fred Allen Hartley
Frederick Lehlbach,
Herman Lehlbach
Le Gage Pratt
Leaders of Business and Industry
Gerhard Heinrich Mennen, founder of the Mennen Company of Newark
William Gerhard Mennen, son of Gerhard, who built Mennen into the giant corporation of today
P.C. Clark, of the famous thread family
Joseph Dixon, who owned the Dixon Crucible co., and whose pencils allowed accounts of the Civil War to be sent home without the cumbersome straight pen and ink bottle.
G. Frederick Hoffman, Hoffman Bottling Co.
Organized Crime Figures
Stefano Badami, first boss of the Decavalcante Organized Crime Family of New Jersey
Sam Monaco, Underboss of the Decavalcante Family, operating out of Newark.
More information can be found about these and other notable figures at www.findagrave.com and searching by cemetery.
Fairmount Cemetery also offers genealogy research services. Please call for information and pricing.